For the SECUTEST family SECUTEST BASE, SECUTEST BASE 10, SECUTEST PRO, SECUTEST ST BASE, SECUTEST ST PRO as well as SECULIFE ST BASE, SECULIFE ST BASE 25, SECULIFE ST PRO we now offer firmware updates and an upgrade.
In addition to functional enhancements and improvements (details can be found in the data sheet), the latest standard changes (details can be found in the technical article) have also been taken into account. (Source: Gossen Metrawatt GmbH, as of April 2022)
Please note: 
IZYTRONIQ version 4.7 or higher is required to operate firmware 3.3.x with IZYTRONIQ BUSINESS/EDUCATION.
Data processing e.g. with ETC is no longer possible after the "Upgrade to new standard and IQ upgrade".
The update to firmware version 3.4.0.0 also contains new test sequences according to the new standards EN 50699 / VDE0702, EN 50678 /VDE 0701 as well as IEC 62368 / IEC 62911, which can be used with all named SECUTEST /SECULIFE models after the update.
The update changes the assignment of the rotary switch positions (AUTO, A1, A2...) and the display of the standards in the device, the test data and test reports.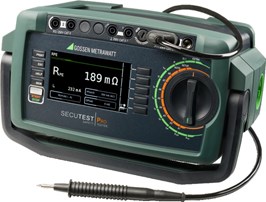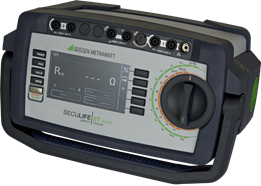 GMC-I Service GmbH offers the following updates and upgrades:
Allgemeines & Features
Norm and IQ-Upgrade
Update to new standard
Firmware Update 3.4.0.0
Voraussetzung

No IQ device yet

Up to firmware version 1.8.3 or lower

An IQ device already exists

From firmware version 2.0.0

Model already prepared for new standards (KE01 feature enabled)

After the upgrade, all devices have the latest firmware and function with the IZYTRONIQ software
■
■
■
The L-N short-circuit control has been improved and the LN-PE short-circuit control limit has been increased (now 2KOhm)
■
■
■
Adjustment of the short circuit control (if necessary)
■
■
■
Recalibration and adjustment to current manufacturer specifications (if necessary)
■
■
■
100 % final inspection according to manufacturer's specification
■
■
■
New measurement and test data created with the converted measuring device can be easily imported into the IZYTRONIQ software
■
■
■
Adapted nameplate and IZYTRONIQ capability
■
■
■
DGUV testing
■
■
■
New standards: EN 50678 (VDE 0701), EN 50699 (VDE 0702)
■
■
■
New test sequences: EN 50678 (VDE 0701), EN 50699 (VDE 0702), EN 62368, EN 62911
■
■
■
Item number
QU049
QU050
QU053
Price
513 €
405 €
189 €