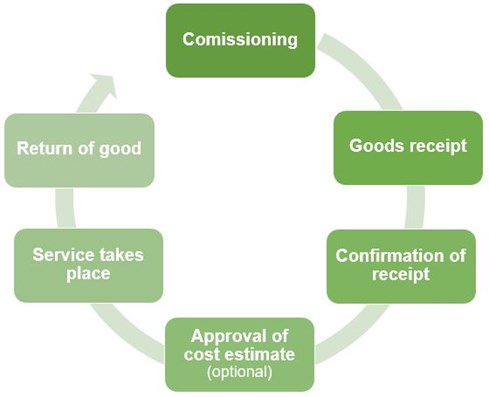 1. Comissioning
ATTENTION: Please clarify in advance with your purchasing/accounting department whether your company needs to trigger an official order. If yes, we need this order mandatory, otherwise we can not process your order.
The customer sends his device well packed, incl. his possibly necessary order (optional accompanying letter, delivery bill or with our goods accompanying document) to our service department (GMC-I Service GmbH, Beuthener Str. 41, 90471 Nuremberg, Germany) or delivers it personally to the customer service center (same address, opening hours Mon-Thu 08:00 - 16:30, Fridays until 13:00).
For the sake of easy and faster processing, which our customers appreciate very much, we do not work with RMA and return numbers to pick up and accept your shipments. Therefore, registration of your shipment is not necessary. Your security is served in the first step by the tracking/sending number of your shipping service provider until our confirmation of receipt is issued shortly thereafter.
Accessories: To ensure quality and if calibration is necessary, we recommend sending the original accessories.
2. Goods receipt
In our goods receiving department, the device is assigned an individual number. This means that the device is immediately known to our system and each subsequent work step is recorded in detail and traceable. All important information and progress are stored and can always be traced and called up by us.
But did you know...
That you can also easily keep track yourself, at any time and from any place, in real time, without calling us and asking? With our new, cloud-based device management tool IZYCHECK.IQ, you can keep track of all your devices, their order status and attached documents. In addition, you can now also view open cost estimates and approve them online. Test the application 4 months free of charge and without obligation. Click here to register.
3. Confirmation of receipt:
Once the device has been booked into our incoming goods department and within the system, you will immediately receive a confirmation of receipt with an order number and the estimated delivery time (the more precise your error description, the more accurately we can determine the delivery time). We will usually send you the confirmation of receipt by e-mail or fax. Therefore, correct address and contact information is important.
Note: We do not send order confirmations, as our confirmation of receipt contains all necessary information and is sufficient. Even after your approval of the cost estimate, no order confirmation will be sent.
4. Your device requires additional/urgent recommended services beyond the order:
It may happen that, for example, during the calibration process, we discover that your device has a defect that we advise you to rectify or would like to expressly recommend. In this case you will receive a cost estimate from us.
5. Your device is ready and on its way to you:
When your device leaves our company, it will be provided with a tracking number, which is immediately available to you via the IZYCHECK.IQ Cloud application. The shipment should usually be with you within 1-3 business days within Germany.