The annual company day of the Grundig Academy took place on 14.03.23, the technician fair of the Rudolf Diesel Technical College on 16.03.23. Together as a group, with our own stand as well as all relevant job advertisements under our arm, we visited.
The aim of the two days was to draw attention to us as a group together with 4 attractive employers in Nuremberg, to get into conversation and to get a feeling for the needs and interests of the skilled workers. A total of 15 companies took part in the day at Grundig and 38 companies at the Rudolf Diesel Fachschule. In addition, the future technicians of the Rudolf Diesel also presented 30 highly exciting technical projects, their final theses. We are therefore particularly pleased to be able to support these projects, preliminary courses and excursions as a member of the school's own sponsoring association. Rudolf Diesel's current departments include electrical engineering, computer science, mechanical engineering, mechatronics, business informatics and civil engineering.
The atmosphere was good, the technicians interested and very committed. Especially the presentation of the 4 companies located in Nuremberg and the multitude of technical topics, capabilities and possibilities behind them surprised many. We also met one or the other already familiar face (from the plant tour in January) again. And, of course, we were frequently asked about our products by the technically enthusiastic "young technicians" who had already been our "best friends" in many a final exam. For us as a group, the visit was a complete success.
Gerhard Frisch sums up: "I have never been able to experience such a high level of technical projects in terms of variety and content as at the Rudolf Diesel Technical College's Technician Exchange. Not only from a technical point of view, but also from a holistic point of view. Very often, in addition to the technical topic, marketing and sales topics such as company logo, advertising flyer as well as sales documentation were created for the project, up to the creation of an own project homepage and app. What was presented had an engineering level in very many places."
"In my opinion, too, these were two exciting events at which we were able to present ourselves attractively as a group of companies. We had intensive discussions with prospective technicians (1st, 2nd, 3rd and 4th semesters) from the fields of electrical engineering, mechanical engineering and mechatronics, as well as with exhibitors from other companies. The GOSSEN METRAWATT brand was known to almost everyone. I was very enthusiastic about the dimensions of the exhibited project works. These were not only presented theoretically, but were almost ready for series production. My favorite was the LaWiKran - with a sponsored project budget of approx. 35,000€." Daniel Tempcke adds.
Juliane Peters concludes: "In our discussions with junior staff, we notice time and again how inquisitive they are and how important the topics of "further training and lifelong learning" are nowadays. A "varied job", "not doing the same thing every day", "perspective", "a great working environment and nice colleagues", "an attractive salary" and much more are things that are valued. In the direct exchange, we got a good impression of what drives people. This makes it all the more important for employers to take on board the feedback and integrate it into strategies tailored to their target groups. Utilizing potential and thinking outside the box is the name of the game for both sides. We'll stay on the ball."
Overall, we had good conversations and were even able to inspire one or two people to apply for our positions. We are excited and look forward to the applications that follow.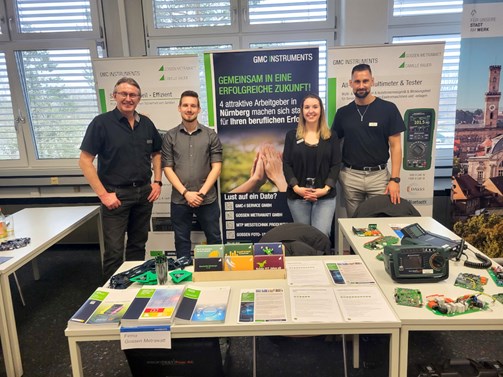 Visit Grundig - from left to right: Gerhard Frisch (Service Manager GMC-I Service), Kai Hennig (Personnel Officer MTP), Juliane Peter (Personnel Officer GMC-I Service) and Daniel Tempcke (Technical Support GMC-I Service)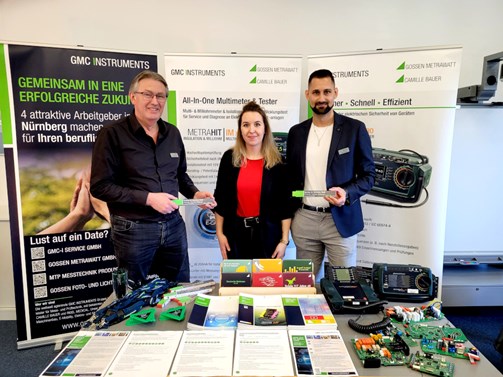 Visit Rudolf Diesel Technical College - from left to right: Gerhard Frisch (Service Manager GMC-I Service), Juliane Peter (Personnel Officer GMC-I Service) and Daniel Tempcke (Technical Support GMC-I Service)