Germany-wide Service Meeting 2022 for the first time in Nuremberg together with KVD - Customer Service Association Germany
On 23.05.22 it was finally time. After more than 2 event-free years, we were able to welcome some participants again on this Monday and inspire them with content as well as our premises (quote: "The building is awesome!"). This year's KVD Service-Treff was organized by me Weiterbildung and its managing director Markus Eckstein, held in the premises of GMC-I Service GmbH and the agenda was filled with exciting topics from us.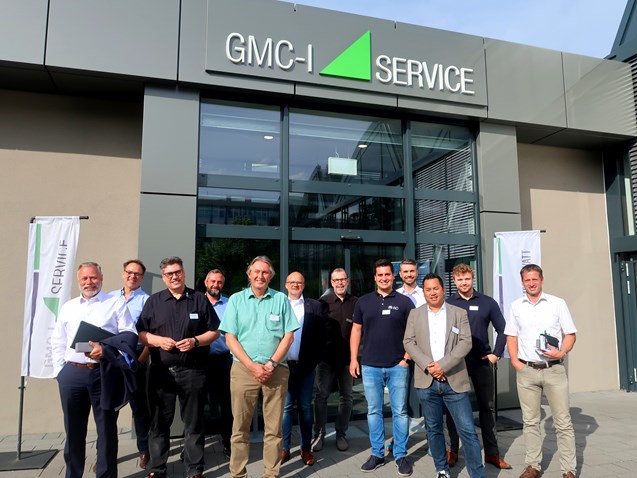 Here you can see the participants and organizers of the following companies: BMK Group GmbH & Co. KG, WLC Würth Logistik GmbH & Co. KG, JENOPTIK Industrial Metrology Germany GmbH, AVL DiTEST GmbH, Becton Dickinson GmbH, Noxum GmbH, Robert Bosch GmbH, Empolis Information Management GmbH, me Weiterbildung, ICS International GmbH Identcode-Systeme and GMC-I Service GmbH.
The motto of this year's meeting was the digitalization of service processes. At 3 p.m. we welcomed the participants at the check-in counter in the entrance area. After a short opening speech and presentation of the GMC INSTRUMENTS group of companies by service manager Gerhard Frisch, the meeting continued directly with a guided tour of the repair shop and the calibration laboratory of the service. Here, the participants were given detailed insights into the digital processes, among other things. This was followed by a presentation on the topic and the introduction of our cloud-based self-service portal IZYCHECK.IQ. The meeting was rounded off with delicious snacks and an open networking and discussion round, which was actively used by all participants.
The participants were particularly interested and grateful for the guided tour and the insights into and information about our digital processes. Quote from one participant: "I particularly liked your openness and transparency, because that is not a matter of course and I didn't expect it to be like that."
Questions were raised on the following multi-faceted topics:
Sustainable repair at component level,

how the digital registration of devices works,

how and with whom to do "digitization",

opportunities and risks of digitalization,

what happens to data from third-party products,

what is the central focus or orientation of IZYCHECK.IQ (by products, orders, processes;),

whether equipment is sent in from around the world and how export processing is handled,

whether rental equipment is made available during repairs,

how and to what extent training is provided in service,

whether digitalization has an impact on personnel and knowledge management,

whether customers pay for VIP status, smart services,

how digital order processing works and how/where we collect our data (CRM, SAP, databases, etc.),

whether only electrical measuring and testing equipment is calibrated,

whether calibration reminders are sent or whether we work with advance notifications of e.g. repairs from the customer and

whether the IZYCHECK.IQ data can be imported into own/external systems and software.
Questions for our participants:
What is your expectation for today?
Almost all participants arrived without any particular expectations and wanted to be surprised.
What did you particularly like?
The personal exchange, the openness and transparency of GMC-I Service GmbH, the detailed information and insights, the cross-industry and cross-company exchange of participants, the very good all-round service and support from the organizer, and the catering.
What does digitalization mean to you?
Data capture, making data available to customers and companies as a source of information, and the digital document - process flow.
With whom do you implement digitization projects?
With the individual departments, but above all with someone who coordinates and mediates and "translates" between the individual participants / areas. The view of the big picture must not be lost by taking interfaces into account and speaking the same language among all project participants.
Around 7:30 p.m., the last participant said goodbye, knowing that there were still a few kilometers to go on the way home.
We thank all participants and contributors as well as the participants and look forward to seeing everyone again at the next KVD Serivce-Treff Nürnbeg / Würzburg and to stay in contact and exchange. More information and dates are available here: https://www.service-verband.de/kvd-service-treff.