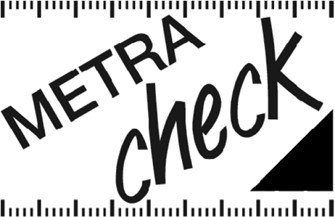 Your Metra-Check service-contract: After 12 months, it is far from being over…
To ensure a maximum availability of your products, we are offering you a service package, that includes a guarantee non-stop - the METRA CHECK service contract. This provides you calculable annual operation costs, permanent product quality as well as an increasing life of your product. Your tested device is always up to date and meets the requirements regarding DIN EN ISO 9000 and DGUV regulation 3 (if necessary).
The METRA-Check service contract starts with the end of the guarantee period. At this stage, the annual fee which depends on the device type will be due. We guarantee price stability of 5 years for the annual fee. Doing an initial calibration at the initial delivery of the device and a seamless annual calibration within our calibration laboratory is a prerequisite for the transition from the warranty period to a service contract. 
The scope of the service contract includes:
Complete functional test according to the final inspection directive and setting the product to the published manufacturer specifications
DGUV regulation no. 3 security check (without protocol)
Update of device-firmware (if necessary)
Repair (if necessary)
Excecuting a calibration incl. creation of a certificate
Free monitoring of your device-pool with timely scheduled reminder to send your device to us
After ordering once, the device is flagged with a Metra-Check sticker
Exclusions from the Metra-Check service contract:
Cables, batteries, loose accessories, wear and tear and consumables (e.g. fuses / risers / measuring tips / relays / plug insert / battery / printer ribbon / paper and more.) are not covered by the agreement
The effects of violence, falling damage and unauthorized interventions are not covered
Devices must have been operated due to the conditions specified in the technical data